CLOTHING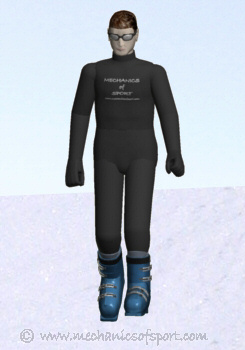 It is important to remember that although skiing is a lot of fun, you can be in the middle of nowhere, in sub zero temperatures, and in bad weather conditions. So having the right kind of clothing, can make a big difference to your comfort and enjoyment.
To be well kitted out on the slope clothing-wise you should have:
A Skiing Jacket
Salopettes / Skiing Trousers
Gloves
A Hat / Helmet
A Thermal Base Layer
Ski Socks
Also if you want to dress up warm for the slopes, lots of thin layers will be warmer than 1 thick layer. This also makes it more comfortable as you don't have to be so padded out to be warm.
Although you can never be prepared for all conditions that you might come across on the slopes, it is important to match what you take with you, to what you are going to do. If it is a nice sunny warm day, and where you are going, you will be able to come off the mountain easily at any time. Then you can just take clothes that's aren't so warm with you, and if the weather changes you know you can head back before you get too cold. If you are going somewhere that will take a long time to get back from though, you will need to be more careful with what you wear and take with you. For spring skiing, I often wear a softshell jacket with a thin thermal, I find this generally keeps me cool enough, but if the weather changes I am still wearing a waterproof and windproof layer that can keep me warm enough for an hour or two.
There are a few properties that good skiing clothing will have.
Waterproof
Being waterproof is very important for ski clothing, as if you get wet you will get cold very easily. Ski clothing can come in many levels of waterproofness, most jackets and salopettes will be around 10,000mm, but if you really need to stay dry you can get them up to about 30,000mm.
Breathable
As said in the waterproof section, if you get wet you will get cold very easily, so it is important not to get wet from the inside as well. Breathable materials let watervapour through, but stop water from getting in. This means that the material stays waterproof from the snow, but allows your sweat to escape. Having breathable clothing also increases comfort, as you don't want to have a damp layer next to your skin all day. It is also important with a breathable jacket that you wear the correct layers underneath, as the breathability will only work if your base layers let moisture pass through them. On this note you should generally not wear cotton under your jacket as it absorbs moisture instead of repeling it, and will stop your jacket letting out the moisture properly. There are some thermals that you can buy made from cottom that say they wick moisture away, but I have never found them anywhere near as effective as a synthetic or fleece layer.
Moisture Wicking
This is a property that you want in a base layer, it basically takes the moisture away from the skin, so that you stay warmer and more comfortable. It also allows moisture to escape through the jacket more easily.
Materials
As for materials that clothing can be made out of with these properties, there are several, and as with most advertising spin, each brand of clothing will claim that it outdoes the competition in several ways. Generally there is very little difference between the top brands though, as everything has been made for the same purpose, with similar materials, and the performance will be as good as the same. If you really want to compare the differences between materials and manufacturers, you need to look at the numbers for how waterproof and breathable the materials are.
Another important thing to say about clothing is to make sure that your clothes dry out overnight while you are skiing. Things like gloves especially can end up quite damp by the end of a day, and it is always a good idea to leave them hanging above a radiatior (not on a radiator) overnight. If your clothes are still damp from the day before you will be amazed how much quicker you will get cold.
On to the Protective Clothing section.