Learning to Ski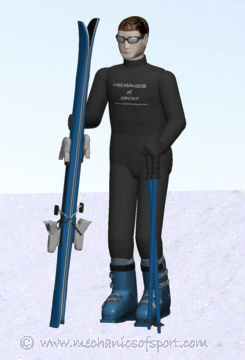 As said in other parts of this website, you cannot learn to ski online, but you can learn how to ski online. As this website can only show you how to ski, there are some other important steps that you need to take if you are going to learn to ski properly.
Ski Lessons
When learning to ski, it is always advised to take ski lessons, as they will introduce you to all the real life aspects of skiing in the correct ways, and provide exercises based on how people learn in real life, to get you skiing with the correct technique. In the ski lessons section it explains the kind of things you would do in ski lessons, and why they are so important.
Common Mistakes
Lots of people make the same mistakes when they are learning to ski. In the common mistakes section a lot of common mistakes that people make are shown, with diagrams to show how they should be corrected.
Piste Safety
When learning to ski it is also important to know how to act safely on the piste, and in the piste safety section it lists some of the rules and ways of the piste that you should know.
Learning Mentality
Learning to ski can happen quickly or take longer, and the mentality you have while you are learning to ski can make a big difference to how you learn. The learning mentality section, explains some of the ways that quicker learners think, and shows some things that can happen depending on how you are thinking.
Real Pistes
In this website all the examples are generally based on a slope that is perfectly flat, perfectly straight, and has no change in gradient or slants. Real pistes are not like this though, and in the real pistes section it explains some of the things you might come across on a piste on how compensate for them.
Snowboarders
On the slopes you will be sharing your space with snowboarders. Snowboarders cannot control themselves in quite the same ways as skiers though, and it is important to know some of the differences between the 2 sports in order to let everyone enjoy the pistes in safety. In the snowboarders section, some of these differences are explained.
How to Use the Website
Finally this website shows you and tells you how skiing works and how to do it. Things don't always seem the same in real life though, so the how to use this website section, gives you some tips on how best to use this website while learning to ski.
On to the the Ski Lessons page.